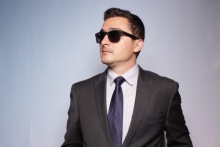 Jira & Agile Coach at Last Call Media
As a Web Developer, Project Manager, Product Owner and Certified Scrum Master, I've been implementing web-based IT solutions for over a decade and have extensive experience in all aspects of information design and development. 
I have contributed to Open Source in both code and community capacities. In addition to occasional international appearances, I'm a regular presenter at Meet-ups, Camps and Conferences, usually speaking on Project and Business Strategy and Management topics. I also stay involved in my local IT community as the Executive Director of NERD, a New England based non-profit for the inclusion and advancement of computer science and development in its region.
As an Entrepreneur, I have founded the LeftClick IT strategy and consulting firm as well as the Last Call Media web development agency.
I graduated Summa Cum Laude with departmental honors in Philosophy from the University of Massachusetts.